The EasyMate Range of Home Testing Kits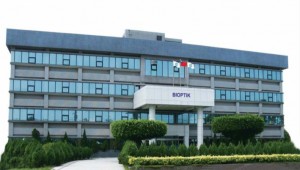 The EasyMate range of Multi-function Monitoring Systems are made in the Republic of China (Taiwan) by Bioptik Technology. The company is a world leader in blood testing and monitoring kits, which are sold in dozens of countries around the world. Bioptik Technology is synonymous with high quality medical products.
The Bioptik factory (photo to the left) is a modern complex comprising a manufacturing facility, packaging department, quality control and research and development, as well as a modern administration centre. Bioptik is continuing to develop new products in the in vitro diagnostic area, in addition to other medical devices.
EasyMate home testing kits for monitoring blood glucose, cholesterol, uric acid and hemoglobin, are available in a number of combinations to suit individual needs. Each kit contains an EasyMate multi-function meter, test strips and all other items necessary to test and monitor relevant blood levels in both a home environment and a point-of-care facility. EasyMate test strips, sterile lancet and other items are available separately.
EasyMate Kit Contents:
Each EasyMate Kit contains everything needed conduct a blood test to determine and monitor the relevant blood level. The kits are clearly identified both by the model number and the kit name, as to what blood levels the kit meter will monitor. For example the EasyMate G will only monitor blood glucose levels, whilst the EasyMate GC is a multi-function kit and the meter included will monitor both blood glucose and blood cholesterol levels. A complete list of the available kits appears below and each kit is dealt with in detail on subsequent pages.
Every EasyMate kit has the following contents: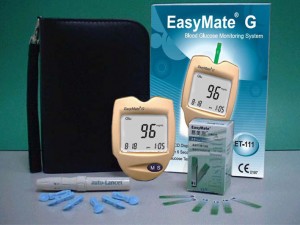 **   EasyMate Multi-function meter
**   Batteries for the above meter
**   EasyMate Test strips for the above meter
**   EasyMate Check strip
**   EasyMate Users manual
**   Lancing Device (Puncturer)
**   Pack of sterile Lancets
**   Quick Reference Guide for Lancing Device
**   User Log Book
**   Carry Pouch
The Kit illustrated on the right, is the EasyMate G – Blood Glucose monitoring kit, showing the meter, test strips, lancing device and sterile lancets.
Please Note: Every EasyMate kit is supplied with the relevant test strip types. For example the EasyMate GC is supplied with a pack of both Glucose test strips and Cholesterol test strips.
For a complete list of all kits, as well as detailed product information, please click the appropriate link below or select the appropriate kit type from the sub-menu above, under "Our Products" on the main menu bar.
EasyMate Kit links:
EasyMate Price List:
For a complete Price List of all EasyMate kits, test strips and accessory items, please click the link below: